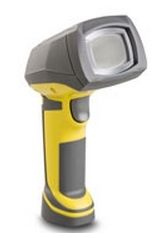 DataMan 8600 Series by Cognex
Related Technologies:
DataMan® 8600 series image-based ID readers provide the world's most advanced barcode reading technology for decoding Direct Part Mark (DPM), 2-D and 1-D codes of varying sizes, quality and marking or printing methods. These handheld DPM barcode readers are designed for the harshest factory floor environments. Equipped with an advanced liquid lens imaging system and patented UltraLight® flexible lighting technology, the DataMan 8600 series of barcode readers decode the most challenging DPM barcodes on the widest variety of surfaces. And, the modular communication design supports Ethernet with Industrial Protocols as well as corded and wireless modules to ensure the DataMan 8600 series of readers are ready to meet your application communication requirements.
About Cognex
Axis is the authorized Cognex distributor for Northern New Jersey and New York. Cognex is the world's leading supplier of machine vision sensors, or computers that can "see". Our machine vision sensors gauge, guide, inspect, count, and identify products on the fastest production lines.

Our proven technology, application expertise, and worldwide support mean customers can rely on us to deliver machine vision solutions that work every time - even under the most difficult factory floor conditions. In the industrial machine vision market, Cognex has supplied more vision products ... over 275,000 ... than any other company.

Customers rely on Cognex as a long-term partner, working alongside them to continually find new ways to improve the quality, productivity, and profitability of their manufacturing operations. Cognex is the machine vision leader that industry relies on!